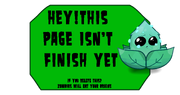 Info
Submerge-mint is the new Type of the Mint Family and it focus on water which its name is Submerge . It's just like any power mint but focus in water. It boost water plant and spawns Penny-worths  in 5×2 area in land and spawns Lily Pad  in water .Submerge-mint family plant includes:
▪ HEY! You can add you water plants in here make sure if you wanna add your plant it must be water type plant !
Origins
A plant is originate in a real life plant called Mint and it names come from submergement 
Images
Trivia
▪This was made because of a Request and Kinda like it so I made a Submerge-mint plant
▪Originally Submerge-mint's name would be Water Mint despite that it's lacking pizzazs!
Community content is available under
CC-BY-SA
unless otherwise noted.