Split-Sling has 4 strength and 2 health. He cost 4 sun and is part of the Mega-Grow class.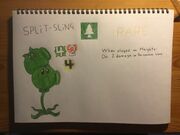 It's trait(s) is n/a.
It's ability is When Played on Heights: Do 2 damage on the random lane.
It's is a Pea Plant and is Rare.
Description: In the land or in the air, we will double take you down!.
Strategies
With
(place description here)
Against
(place description)
Trivia
This is the first Plant here made by Rayman901
example
example
Also See