Hockey Star has 2 strength and 7 health. He cost 4 brains and I'd part of the beastly class.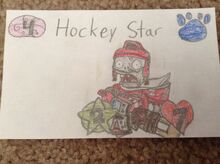 He has 2 traits which are deadly and frenzy.
ability is: After combat here: If this destroyed a plant, this gets +1 strength.
he is a Professional Sports Zombie and is Rare.
Description: Oh Man! Hockey Star's clothes are so stinky that no plant or ZOMBIE can even handle his stink. Can't bear be around him.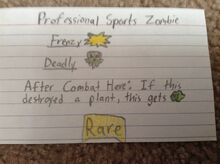 Strategies
With
This zombie's trait is almost like deadly and strikethrough. You should use this card the same way you would a deadly plus strikethrough card. Just place this in front of plants whose strength are less than 7 so this can also hurt the hero. Just be careful of plants with the armor ability because then this can't destroy the plant with deadly ability.
Against
Be careful to not get your important plants to be hit by this because if they do, they're gone. But to prevent those plants from dying, you could use armored plants like Jugger Nut since deadly can't instant kill armor and that would also prevent this from gaining too much strength. If it's too late and this already has too much strength, then you can use shamrocket or any other instant kill.
To be honest, you could probably just tank this zombie if you don't have any instant-kill or damage cards. 2 strength is not the worst a 4-cost zombie could have, but beware of cards like Vitamin Z, which can force you to deal with it, often causing a large waste of cards to take down it's high health.
The Solar class is best equipped to take this out, as they can instant-kill it, reduce its strength, and heal from its attacks. If you are using the Mega-Grow or Guardian classes, this card can easily ruin your time, instantly defeating your high-buffed and high-health fighters while gaining strength.
Trivia
He is now the third garden warfare variant in the game along with Captain Flameface and Golf Star (PvzH)
he is the only card in the game with both deadly and frenzy when first played.
in his description it says that his clothes stinks so bad so maybe that's why his trait is deadly.
Or maybe because in Garden Warfare, his primary weapon is called the Stinky Glove Launcher.
This zombie belongs to Antonio, IAmDawny, and TheNileGuacadile.
Also See
Community content is available under
CC-BY-SA
unless otherwise noted.