Captain GargleMuscle has 5 strength and 5 health. He cost 8 brains and is part of the Crazy class.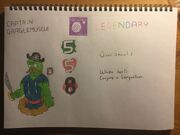 It's trait(s) is OverShoot 3.
It's ability is When hurt: Conjure a Gargantuar.
It's is a Gargantuar Moustache Pirate and is Legendary.
Description: We need a biggererer boat... and some clothes!
Strategies
With
(place description here)
Against
(place description)
Trivia
This is the first Zombie here made by Rayman901
The same idea was from Plants vs Zombies Character Creator Wiki's set of "Nightmare on the Modem Street"
example
Also See